Hey Guys, sorry for the lack of posts. I have like 3 paged from my sketchbook that I want to scan in an post. But this week all my drawing time has been spent painting frames for an animatic. Once it is finished I may be able to post some of it, but right now it is too classified ;)

To tide you over here is the doodle I did last Thursday while recording PotterCast. I had fun.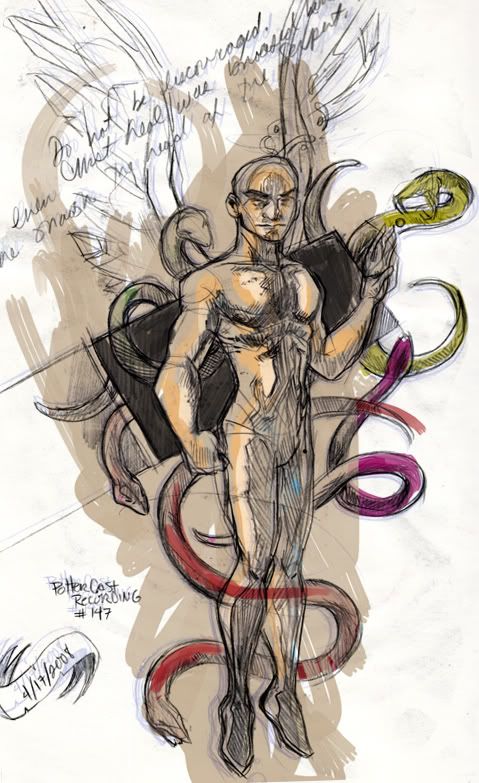 I wish I could just sit here and ramble away with what has been going on in my life and heart, but I dont really have the time to get into specifics. The Lord has been doing an overhaul on my heart these last few weeks and it really came to a head this past week; in many forms like comfort, rest, and solace, and in some really scary ways too. Issues dealing with my future, finances, friendships, love, lust, doubt, depression and my calling. I guess I needed and continue to need to really search myself and see if the path I am on is the one that I want my ministry and life to go down.  And I think I have realized something, I realized that I don't really care anymore. And that is a good thing, all I really care about is that wounded hand.  As long as Christ's hand in mine I will be safe, I wont always be comfortable but I will be safe. The best part is that He walks beside me, He will never drag me only adventure out with me. With each step His love will reveal more and more of the path ahead.

It will be a hard journey, with many joys and many tears. When I get weak I will remember Christ is my support. When I am wounded I will remember that even Christs heal was bruised when He crushed the serpent. And when I doubt and fear I will spur myself on by asking, "Am I above a bruise?"