It kind of sounds like a title to a Meg Ryan movie huh?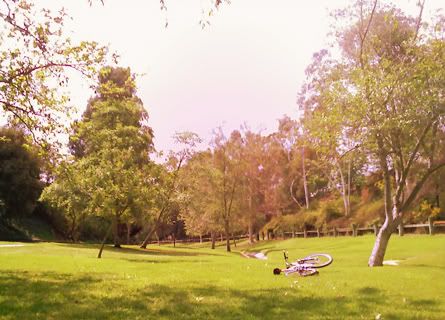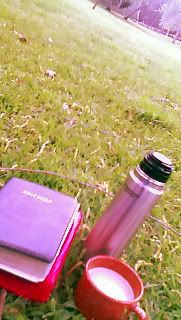 I had the most relaxing day today. There is a park that I having driving by almost everyday since I moved into my new place, and every time I pass it I say to my self, "self... lets go to that park." So today I finally did. Its in this little valley thing behind a little strip mall and below street level, so its nicely tucked away. When you drive by you can only a little slice of it for a few seconds due to the amount of foliage and because its in that little valley. I got on my bike and I rode down there. While there I enjoyed my lunch under a tree [while having some pellegrino as well] and read my Bible. It was beautiful. If you haven't made time to sit under a tree and just relax do it. I was able to just take it the whole park in. There were birds singing and hopping about, butterflies wafting in the gentle breeze, ducks waddling in the grass, and squirrels running a muck.

And the best part is about my latté. I got too hot riding my bike to enjoy it, so I just wrote it off and figured I would drink it later. But after sitting and eating lunch in the shade the breeze picked up and the clouds masked the sky and lo and behold I got chilly! So after enjoying a sunny ride in the park with a cool breeze I also got to enjoy my warm latté while reading under a tree. God hooked me up today! To quote U2, "...it was a beautiful day..."